Art Supplies

Since I am asked very often which pencils and which paper I use for my drawings, I have listed everything here.

For most mixed media drawings I use a combination of Copic Sketch Markers, Faber-Castell Polychromos artists' color pencils and a uni-ball Signo pigment ink um-153 white gel pen, as well as some other art materials: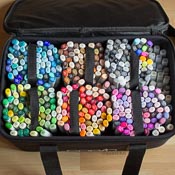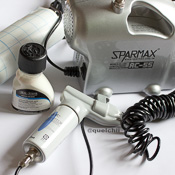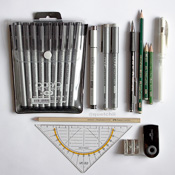 Sometimes I also combine everything with other art materials such as pastel pencils, other multiliners or test different paper to find the perfect paper for my technique. A lot of supplies have accumulated over the years!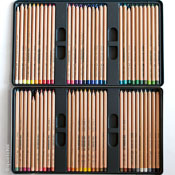 In addition to classic drawings, I also do painting from time to time. My favorite materials are watercolors (but also gouache) and oil paint.
Technique

As already described under Art Materials, I mainly use a combination of markers for the base layer, colored pencils for further layers + details and white gel pens for highlights for my mixed media drawings.
Since I prefer to color rather than sketch, I use the "grid method" for pencil line art and measure various striking points with a ruler, so that the proportions are correct and after 5 hours of work I suddenly don't notice that something is wrong.

So far I don't have any tutorials on my website, but there are some older, smaller step-by-step tutorials on Deviantart (see descriptions under the drawings):
Art Room

In the summer of 2021 I finally decided to set up my own room for my art and after several days of renovation work it was finally done!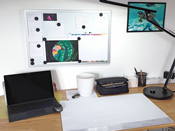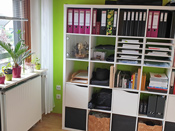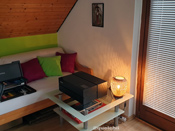 Naming

In case you've ever wondered why I chose the name Quelchii on so many social media platforms:
The carnivorous plant Utricularia quelchii with its beautiful flowers has been my favorite plant for many years. That's why I decided early on to choose this name for myself and my website.

I also own some forms of this plant from different locations and they bloom anew every spring.
In addition, the flower of U. quelchii was one of my first drawings that I uploaded to Deviantart and my homepage many years ago. So that's where it all started!