At the moment commissions are closed (October 2021)!
I also draw commissions on request. The artwork can be made with colored pencil & marker (mixed media), marker, pencil, gouache, watercolor, oil etc. The formats A5, A4, (A3) or sketch card size are possible.

I draw portraits, people, animals, plants, landscapes and also objects. Designs (digitized) or botanical drawings are also possible.

I always seal the traditional drawings with a fixative (UV protection). Nevertheless, I would always recommend a frame with glass (with UV protection).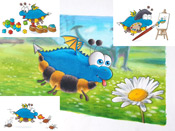 Price List

25 € per hour (if I can't use it for my sites or prints)
20 € per hour (if I can use it for my sites, but not for prints)
15 € per hour (if I can use it for my sites and prints)
For a portrait without a background, for example, I need about 4,5 to 7 hours. Only the drawing time is counted as working time. Editing and adapting the template will not be charged.

Prices for companies differ from this.
Payment & Shipping

Shipping costs
Germany: 6 € (registered shipping)
Rest of the world: 9 € up to 13,50 € (with tracking, costs depend on location)
Payment
Payment can be made by PayPal or, if necessary, within Germany by bank transfer.

50 percent of the calculated amount must be paid in advance and can't be repaid after I started drawing. The remaining amount is due as soon as the drawing is ready (preview via email) and ready to be sent.
Contact

If you are interested in a commission, please send an email in German or English with the photo (good resolution and quality, at least 1080px x 1080px) or a description of what you want me to draw (person / animal / plant) to info[a]quelchii.com.